Ten Bay Enjoy Bahama Villa yourself for a week and discover a vacation getaway you will treasure for years to come! Make your reservations early, however. Eleuthera is one of the more popular Caribbean hideaways and our Bahamas rental at Ten Bay (near Governor's Harbour) is an international favorite. Here you can dive, swim, rent a boat, snorkel, fish, enjoy spectacular sunsets, or just sit inside our central air-conditioned comfort doing nothing except savoring that paperback novel you've saved for just such an occasion.
Bahama Villa is a 2-bedroom private home on the edge of a peaceful bay with wrap-around views and clear water. Currently owned by Robert and Emmy Buckman, the villa is perched on a promintory overlooking Ten Bay Beach and offers a unique spot to experience the same island ambience and nature's magnificence that draws visitors here from around the world.
The weather in Eleuthera is almost always warm, and rarely goes below 65 degrees fahrenheit. It does get cool on occasion in the winter months, but an extra long-sleeve shirt will handle that little problem nicely. Mostly, however, you will need your bathing suit and suntan lotion. The summers are usually hot – perfect for sunbathing, snorkeling (we even provide some snorkeling gear!), and swimming. Central AIR CONDITIONING was installed in 2001 and updated in 2005, one of the first houses in the area to have it. Most guests report not needing it much, however, except on the very hottest days. With all the fresh breezes wafting in from the bay and circulated by the ceiling fans, you may want to just enjoy living a-la-Casablanca.
Bahama Villa is about 800 square feet inside but the porches and decks overlooking the ocean and beach give you the feeling of a much larger place. Some days you might just turn off the air conditioning, open the four large glass doors and allow the gentle Caribbean breezes, along with the sound of ocean waves, birds, frogs and crickets to lull you to sleep. The rooms are conveniently laid out with the master bedroom opening via glass door to porch and the ocean and beach views. There is also a guest room that contains two twin beds convertable to queen-size, bathroom, fully equipped kitchen and a large great room featuring wicker furniture and a futon sleeper sofa. The Villa is priced for two guests, but can accommodate up to six. There is a phone for incoming and local calls, a VCR/DVD with video library and extra DVD's. Sheets, linen, games, and many extras are also included. The Villa is cleaned before you arrive and extra maid service is provided for longer stays.
As a guest, you will receive a Welcome Packet before your trip containing pertinent information on check-in procedures & codes, local festivals, island sights, dining spots, car and boat rentals, and much more.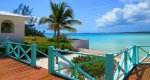 SeaDreams has just undergone a massive interior makeover (Nov 2014) which includes the addition of a modern kitchen, new high-end appliances, breakfast bar, private bar area, and entertainment center. It's the same view and location you know and love, with all the conveniences you expect, to enjoy your dream vacation in paradise.
The new SeaDreams is a distinct, cozy tropical paradise ideally suited for privacy minded couples. Located on Ten Bay Beach on the Bahamian island of Eleuthera you are within easy reach of nature and beauty. The warm open feeling provided by the cathedral ceilings along with the sea life and Caribbean decor make the home an unforgettable vacation experience.
Come to Eleuthera and enjoy the pleasure of the calm sea and the gentle breeze. Relax with a cool, tall drink by the water's edge, and feel the tension leave your body as clarity of thought and mind return.
This home is owned by the author of The Beach Book, Eleuthera, Bahamas edition, the ultimate travel guide for safely finding ALL of Eleuthera's 135 beaches. Rent from the island's beach expert.