weddings

Enjoy a vacation in the Bahamas with us as we offer a leisurely, stress-free atmosphere and provide our guests with a sociable environment. You'll have our undivided attention when you need it, and plenty of privacy when you don't. Make one of our 12 bungalow rooms and 8 luxury villa suites your own private vacation resort as they are nestled among the sand dunes and coconut palms, and each is only steps away from two beaches and a freshwater pool. Since every room comes with a view, you can take in the great Caribbean outdoors without ever leaving your quarters!
 At the Abaco Inn you can refresh your body, soothe your mind and feed your soul. Soak in the sun, dine on the breezy terrace, sip a tropical drink and be filled with the peace of Bahamian life.
Let us help you arrange your next visit. We can't wait to have you as our guest!
Important Note from The Abaco Inn: There is miles of sand and sea between our paradise and your hectic lives but that distance unfortunately causes our phone and email connection to be less than perfect. When you call or email please be patient. We are here and we will respond.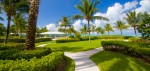 Your Bahama Beach
Vacation Resort in Paradise
Amidst fragrant tropical gardens, overlooking the lapping surf of the crystal-clear sea and best beach in the Caribbean, our two, three, four and five bedroom elegant beachfront condominiums are fully equipped and include spacious kitchens, cable TV, FREE & Unlimited in-room Long Distance calling to the USA & Canada, FREE high speed wireless internet, and optional laundry and daily housekeeping service.
You'll love our two on-site restaurants; the fun swim-up Pool Bar & Grill and The Pavilion for elegant beachfront and candlelight dining and weddings. Room service is also available. Several other restaurants, groceries, a championship 18 hole golf course, deep sea fishing, scuba center, a world-class 150-slip marina and more are all nearby.
Or the Caribbean Wedding of Your Dreams
Tie the knot at a special beach resort in the Caribbean. Take your vows beside the sea in an unforgettable Bahamas wedding. With our all-inclusive affordable Caribbean beach weddings package, we'll take care of every detail to ensure your special day will dazzle and shine with everlasting memories.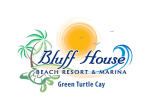 Green Turtle Cay is a vacation paradise for sailors, divers and fishermen. The island is intimate in size at 3.5 miles in length and 1.5 miles wide and it is located just three miles off the east coast of Great Abaco. Green Turtle is the gem among this stretch of islands with an uneven coastline, deep bays, and pristine, white-sand beaches. It is closest in proximity to the southeast coast of Florida, located 170 miles due east of Palm Beach.
Coral gardens teem with colorful sea life, making for wonderful snorkeling and diving expeditions. Shelling on the powder-soft beaches and offshore sandbars is among the finest in The Bahamas. You can find starfish and sanddollars as you stroll along the shores. Boaters are encouraged to explore deserted islands like Fiddle Cay to the north and No Name Cay and Pelican Cay to the south of Green Turtle Cay.
Green Turtle Cay is a history lover's delight. Founded by the Loyalists in the 1700s, the historic village of New Plymouth was born of those individuals still loyal to the Crown of England. Easily accessible by rental golf carts, New Plymouth hosts the Albert Lowe Museum, the Loyalists Sculpture Garden, along with many little, quaint bars and restaurants. New Plymouth is unique in that it is a true working Bahamian village. While in the village, be sure to stop by some of the workshops of the local craftsmen, see their work and meet some of the friendliest people in the world.
Bluff House is one of the most beautiful pieces of property on Green Turtle Cay. Situated between the Sea of Abaco and White Sound, Bluff House is 12 tropical acres of land stretching across the width of Green Turtle Cay.