Shaw Underwood of Bullseye Bonefishing has spent his entire life boating and fishing the waters around Spanish Wells. His skill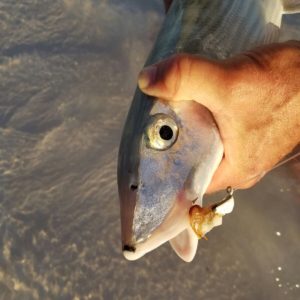 becomes evident very quickly as he pilots his boat from one fishing spot to the next in pursuit of the "ghost of the flats."
The Challenge
Fishing for Bonefish is challenging in the best of conditions because the fish is extremely spooky. They are hunted by both predators of the sea, including shark and barracuda, while having to keep an eye out for the osprey from above. Add to this that the bone fish feed in very shallow waters, sometimes mere inches deep, and you have for yourself a combination of circumstances that produce a very skittish fish. Hook up on one and you realize very quickly why you're fishing with an 8 weight rod.
The Gear
Shaw provides top notch gear including Loomis rods equips with Hardy reels and custom tied flies. No need to haul gear, just show up.
The saying "Your only as good as your equipment" is definitely the case when chasing bonefish. Our 2016, 18 foot flats boat is The Bossman TailSpotter. The TailSpotter is a new generation of technical poling skiff designed with shallow water tournament fishing & guide captains in mind.
Book a trip with Bullseye Bonefishing today at. https://bullseyebonefishing.com