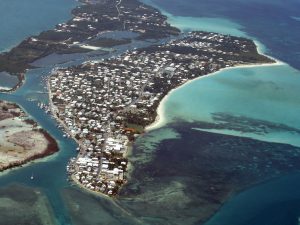 Quaint, beautiful, picturesque, just a few terms that come to mind as I consider Spanish Wells. It is a small island just off the northern tip of Eleuthera. Spanish Wells is approximately one square mile with a population just shy of 2000.
The primary industry of the island is fishing, but there are many other services available on the island basically in support of the fishing.
There is a cottage tourist industry on the island. Vacation rentals reflecting the spirit of Spanish Wells are available, some just steps from the beautiful beaches of the island. Once you spend a week on Spanish Wells I'd be willing to bet it won't be your last visit to this jewel of an island.
Getting To Spanish Wells
From Nassau the Bahamas Fast Ferries make daily trips to Spanish Wells. To get there by air, you'd fly into North Eleuthera Airport. Airport code ELH. Tel 242-335-1242.
The most cost efficient way to fly there is to fly from Miami on the Bahamian airline, Bahamasair. So the plan is to make your way to Miami airport via your preferred travel method and fly Bahamasair to North Eleuthera. In face this is the best method price wise to get to any of the smaller Bahamian islands.
Accommodations and Such
Click Here for Spanish Wells Listings for vacation rentals, transportation, and activities.