Ocean Hole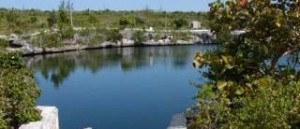 Was something that we totally took for granted growing up. It was simply the local swimming hole. Some of the local fishermen had put a few local fish in the hole, which do very well and have become themselves an attraction.  The come it seems to the sound of foot steps on the steps leading down to the water. Many people bring old bread or other scraps along to cast to the fish competing for as much as they can get. It was my thinking that the tourists came to see the fish, not realizing the greatness of the ocean hole itself.
The attached video offers a great view of the ocean hole and the surrounding village.
Local Lore
Of course surrounding such a dark mysterious hole in the centre of the village stories and legends abound.
We all knew for example that Ocean Hole had no bottom, and there were very large animals living in it's depths. These legends were almost confirmed when scuba diving legend Jacques Cousteau and his team made an attempt to pierce it's depths. They were met with darkness so great that as I remember it they made it to only 65 feet before being forced to abort the dive.
Swimming
Each time we went swimming in ocean hole we would begin to challenge each other to make the swim across to the other side. We would eventually venture out into the depths with our hearts pounding in our chests swimming on top of what seems like an endlessly deep ink black depth. It felt as if we were paring into space itself. The really weird part is that the water is crystal clear on the top, and you can see light shafts disappearing into nothing. It makes me feel really small.
When you visit this great location, you must make the swim out into the depths, let us know what your impressions are.