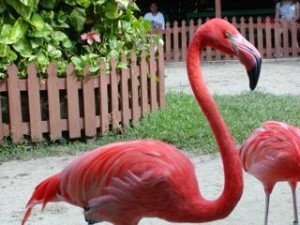 "Birds of a feather flock together" is what I have always been told.
At Ardastra Gardens Zoo you have an opportunity to literally get face to face with the magnificent Flamingo. The Flamingo is definitely the star of the Show at Ardastra Gardens. Twice a day the parade them around the small arena showing off their incredible beauty. Visitors get a chance to take photos in the ring with these gorgeous birds. I ask, Where else can you go to get a pic with live flamingos? One of my favourite photos of my kids is in this little arena with the Flamingos and my two now almost grown kids standing on one foot. Priceless!!! I have not posted that image to save them the embarrassment.
There are many other indigenous bahamian animals as well as a collection of exotics at the zoo to enjoy. Ardastra is a definite hit with the young ones. You may not want to take the teens there unless they are animal buffs.
Another rare opportunity at the Ardastra Gardens is the opportunity to meet up close and personal the Bahamian Boa. Opportunities are given for anyone who wishes to have a photo opportunity with a Boa draped over your shoulders. It's quite an experience as some of these snakes are 40 lbs plus.
Ardastra is a great little zoo, and in my book worth the trip.
There is a small concession stand where snacks and drinks can be purchased. The gift shop next to the concession stand is sure to please with gifts not found anywhere else.