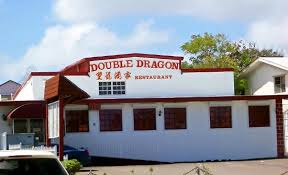 The Double Dragon is another restaurant within easy walking distance of any of the hotels on Paradise Island.
To get to the Double Dragon Restaurant walk over the bridge with traffic leaving the island. Once on top of the bridge you should be able to see the Double Dragon off to the left. It is a white building with a parking lot in front of the restaurant.
The food is really good and priced for the locals. They do both dine in and take out. Double Dragon is open for lunch and supper Monday through Saturday, and open for supper on Sunday.
Entree items range in price from $9.00 to $12.00 for lunch and $13.00 to $28.00 for dinner. The take out menu is priced differently as well.