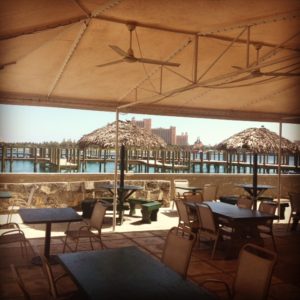 The Green Parrot is a great option for lunch when staying on Paradise Island. It is a pretty easy walk from any of the hotels on Paradise Island. The food is good and economical. The Green Parrot is an outdoor restaurant on the harbour, great for a relaxed meal and a local beer.
To get to the Green Parrot take the bridge that brings traffic onto Paradise Island. At the bottom of the bridge take a right and stay on the harbour side of the road. With in a couple hundred yards you'll see the restaurant.
The Green Parrot is open from 11:30 a.m. to 10:00 p.m. every day.
The menu prices range from $15.00 to lobster at $36.00. The Green Parrot is also a bar, mixing your favourite tropical drinks or serving the local brew.