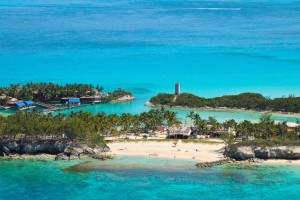 Is one of my favorite places to take visiting friends. Nassau can seem like a lot of hustle and bustle, yet a short boat ride away all the world melts away to the beauty of Bahamian waters and beaches.
Boat Ride
Blue Lagoon Island operates a ferry from Paradise Island to the island. To be able to take advantage of a full day on the island the boat leaves Paradise Island at 8:30 a.m. A short ride through Nassau's historical harbour and about a mile outside the harbour is the beautiful Blue Lagoon Island (Salt Cay).
Activities
Besides the beautiful beaches other activities include:
Snorkeling
Ocean Kayacing
Water Bikes
Paddle Boards
Volley Ball
Ping Pong
There are hammocks and picnic tables located under a canopy of palm trees. The island is set up for total enjoyment.
Lunch
There is a grilled lunch provided. As you can see all bases are covered. The menu includes both American and Bahamian cuisine for your enjoyment. The menu includes hamburgers, hotdogs, grilled chicken, veggie burgers, peas n rice and more.
Who Is This Activity For
The people that I have taken to Blue Lagoon Island are a divers bunch ranging from those who can't stand being with out some activity going to those who would rather curl up in a corner with a book. Of all of them not one has had a bad day on Blue lagoon Island. There is enough to keep the busy person busy, and hammocks enough to satisfy the person who'd rather sit. Kids I can tell you have a blast. The Lagoon is so calm and tranquil that they become quickly comfortable with the water.
You can visit the official web site here